Conrad Grob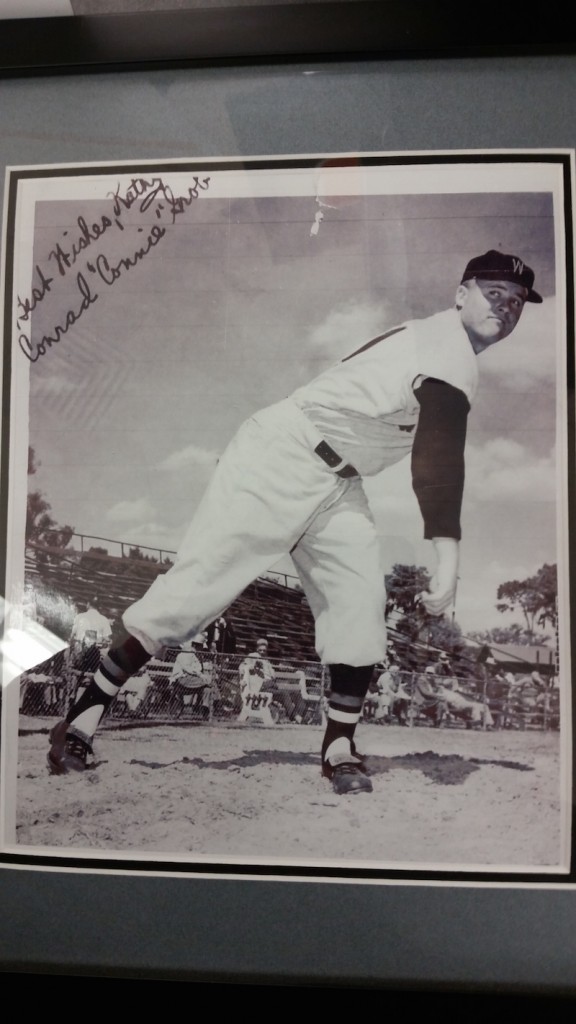 Conrad Grob (November 9, 1932 – September 28, 1997) was an American professional baseball player in the 1950s and 1960s. A right-handed pitcher, he spent one full season — 1956 — in Major League Baseball as a member of the Washington Senators. Grob batted left-handed, stood 6 feet (1.8 m) tall and weighed 180 pounds.
A native of Cross Plains, Wisconsin, Grob signed originally with the Brooklyn Dodgers before the 1952 season and won 24 games (losing five) in his debut year in the Class D Wisconsin State League. After two years in military service, the Dodgers moved him up to the Double-A Southern Association and he responded by posting a winning record with the 1955 Mobile Bears. Washington then selected him in the Rule 5 draft that November.
Grob spent the entire 1956 season with the Senators, appearing in 37 games (36 in relief). He surrendered 121 hits and 14 home runs in only 79⅓ innings pitched, striking out 27.
At season's end, he was reacquired by Brooklyn and spent the rest of his active career at the top level of the minor leagues with the Dodgers, Milwaukee Braves and Houston Colt .45s. He retired after the 1965 Pacific Coast League season.
Connie Grob died in Madison, Wisconsin, at age 64.
Gene Brabender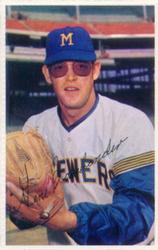 Eugene Mathew Brabender (August 16, 1941 – December 27, 1996), nicknamed "Lurch", was an American Major League Baseball pitcher. He was signed by the Los Angeles Dodgers as an amateur free agent before the 1961 season. He pitched for the Baltimore Orioles (1966–1968), Seattle Pilots (1969), and the Milwaukee Brewers (1970). During a 5-year baseball career, Brabender compiled 35 wins, 440 strikeouts, and a 4.25 earned run average. He stood 6 ft 6 in (1.98 m) and weighed 225 lbs.
Brabender, described by pitcher Steve Barber as "a hard-throwing right-handed country boy", made his Major League debut in relief on May 11, 1966. He entered a tie game against the Chicago White Sox in the top of the 10th inning at Memorial Stadium and gave up a run in the 11th, resulting in a 3–2 Orioles loss.
He was part of the 1966 World Series champion team, but did not appear in a World Series game. Brabender was 16–14 during his time in Baltimore. The best game of his career was on August 7, 1967 against the Cleveland Indians, pitching a four-hit shutout and striking out 12. He was traded to the expansion Seattle Pilots on March 31, 1969.
Brabender led Seattle with 13 wins in their only season in the Pacific Northwest. His finest effort for this infamous team came on June 21, 1969 at Sick's Stadium as he hurled a three-hit shutout against the Kansas City Royals, striking out five. The Pilots moved to Milwaukee during 1970 spring training and became the Brewers, and in what would be his final season, Brabender compiled a 6–15 record with a 6.02 ERA.
Brabender died at age 55 on December 27, 1996.